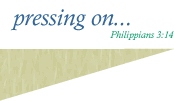 updates
February 15-28, 2001
I went to the grocery store for the first time in a while this evening. It's kind of sad how much I spend on food on the go, not thinking about it. Then I get my bill for $65 at the grocery store, and I think to myself, "that's so much money," forgetting that that food will feed me for at least a couple of weeks at a price much cheaper than food on the go.
Okay, I've put it off long enough. Time to study for that test I have to take tomorrow.
2/27/2001 4:15 PM
I believe I've fixed the "dealing multiple rows" bug! As a result, I've updated Java solitaire; we now stand at version 2.1. Enjoy!
Based upon the beach trip and my latest thought, the God of the ocean, the poem of the same name.
2/26/2001 10:10 AM
I just got up from 12 hours of sleep, which should let you know a little about what the beach trip was like. I'll expound more later. Gotta worry about a couple of midterms and some homework right now.
Off to the beach this afternoon. Be back Sunday night. In the meantime, a new inspired thought, the God of the ocean.
2/22/2001 8:30 AM
To CYP, who gave me the nickname "Evil Assertive", I'd like to state my case for this not being true, anagram-style:
"Evil Assertive Brandon German" =
A venom string; banal dire verse.
Even valid? Error, as BG isn't mean.
I think that is check and mate. :)
2/21/2001 9:15 PM
The new inquisitive thought section has opened, with the fragmented web.
2/21/2001 10:45 AM
Tonight's a sad night...we have to turn over the trophy to them.
Behind-the-scenes work on a new thoughts section is underway, so we've added it to work in process.
2/20/2001 11:30 AM
I'm going to Gulf Shores this weekend with the BCM. Though the weather doesn't seem to want to cooperate, I'm still looking forward to it...I've given the front page a temporary beach background.
2/19/2001 11:45 PM
I will survive... Sorry. Just too funny. Wait till the music comes up. It makes it more fun.
2/19/2001 7:30 PM
The Dr Pepper and flannel tributes now have been updated to somewhat reflect the rest of the site, but with a personality and flair all their own.
2/19/2001 5:30 PM
Version 7.1 of pressing on... has landed. The difference here...every page (save UA Football Facts and a couple of the tributes) has the front page's blue background and border style and everything. This will let me change the style of all the pages by changing just one CSS file! (Insert tyrannical laugh here.)
2/18/2001 9:45 PM
Added a new incensed thought, Yossarian should have it so good.
2/17/2001 10:45 PM
The trip to Ricky's place was great. In that time, we caught up on the ol' male-bonding, became extremely jealous of his entertainment center and his mastery of the resulting 5 remotes used to control all of the components thereof, got a great deal on a gamepad, learned that we're going to have to re-learn how to play NCAA Football 99 because of said gamepad, and finished the last bit of functionality on Java Solitaire version 2. It's now live! It will take just a little longer to download than the first version, but hopefully the added features will hopefully make up for it. Enjoy!
2/16/2001 2:30 AM
First, a caveat. Allow the ramblings of someone who cares about this kind of thing.
Mozilla 0.8 is out. I'm quite happy with it. I'll be even happier when they get version 1.0 out. Unfortunately, that's not due for at least a couple of months yet, but this build is really good.
Behind the scenes: continuing work on Java solitaire version 2.0. Speaking of which, a thank you to all of you who are playing. I'm glad to see that you're all enjoying using it. I'm enjoying making it.