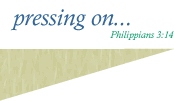 Christianity
The header of this page gives you some obvious information about me. I claim to be a Christian. This doesn't mean that I go to church. It doesn't mean that I always do the good thing and go above and beyond the "call of duty". It doesn't even mean that I do the right thing all the time. All that it means is that I'm a sinner who understands that Jesus Christ died for me, and that it's only through His grace that I'm given eternal life, and hope for something greater in this one. It doesn't mean that I have all the answers. On the contrary, there sometimes seem to be more questions as a result of my faith. But that's what faith is for.
Something to think about
As Christians, we sometimes take Jesus' love for us somewhat for granted. Thus, we take the most powerful proof of that love, His death on the cross, for granted as well.
As a Christian, I've read about Jesus' death on the cross. But I never really knew what He went through for me until I looked at this page. Take a look at it -- I think you'll get a lot out of it.
My favorite two verses in the Bible, when put together, show something very simple, yet very profound, that we as Christians really need to know.

Matthew 28:20 -- "and teaching them to obey everything I have commanded you. And surely I am with you always, even to the end of the age."
Hebrews 13:8 -- "Jesus Christ is the same yesterday and today and forever."
Jesus will never leave us, and He will never change. Those are two things that we can't always count on from people we know here on Earth, but we can always rely on Him to always be exactly what He says He is.
You can find more of my favorite verses at my random verse generator.
UA BCM Page...this web site talks about the goings-on at the University of Alabama Baptist Campus Ministries.
Gospel Communications Network...the place that has it all! Almost everything you could want on-line! Includes the Bible Gateway and Daily Wisdom!
Music
General
CCM Online
ForeFront Records
Chordant Music
Sparrow Label Group
Word Records
Specific
These are the official sites for the artists that I have CDs of. All are good in their own special way. :)
Audio Adrenaline
Avalon
Caedmon's Call
Steven Curtis Chapman
dc Talk
FFH
Natalie Grant
Jars of Clay
Jennifer Knapp
Larue
Sarah Masen
Newsboys
Nichole Nordeman
Andrew Peterson
Point of Grace
Chris Rice
Rebecca St. James
Tammy Trent
Truth
Michelle Tumes
Jaci Velasquez
And compilation sites...
Heaven & Earth
Roaring Lambs
Streams
WoW