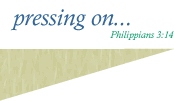 thoughts
o holy night
Passage: "But the angel said to them, 'Do not be afraid. I bring you good news of great joy that will be for all the people. Today in the town of David a Savior has been born to you; he is Christ the Lord.' " Luke 2:10-11
I love Christmas. It is, without a doubt, my favorite time of the year. There are too many reasons to count. I've already decorated my apartment. It's nothing like last year's land of 1122 lights, but it'll do...
But sometimes (actually, quite often) I get too caught up in all of it. I listen (and sing along) to my Christmas CDs, not really thinking about the meanings of most of the carols. I put up lights and a tree and other greenery, not recalling that the light of the world and our hope of eternal life came to us on Christmas. I buy presents for my friends and family; in the back of my mind is the knowledge that the greatest gift of all was given to me (and the world) by my heavenly Father that night.
That really must have been a holy night. By today's standards, it was probably a very surreal sight. A supernova-bright star high over shepherds and barn animals standing silently around a feeding trough, where a man and a woman, equally silent I'll bet, looked (how could they not?) at the little miracle. And what a miracle he was. Born of a virgin, God and man in one. One who gave up his rightful place in heaven to become a baby, grow up and die a death he didn't deserve. All for us.
In one of my favorite Christmas specials, A Charlie Brown Christmas, Charlie Brown is overwhelmed by the commercialism of Christmas and wants to know what Christmas really is. In desperation he yells out, "Does anyone know what Christmas is all about?" At which, Linus tells him, "Sure, Charlie Brown, I can tell you what Christmas is all about," and procedes to deliver a monologue consisting of Luke 2:8-14. At the end of it, security blanket still in hand, he says, "That's what Christmas is all about, Charlie Brown." And you can see the realization spread in the form of a smile on Charlie Brown's face as he realizes that Linus is exactly right.
Christmas is a wonderful time of year...all because of a holy night some 2,000 years ago. Let us never forget...