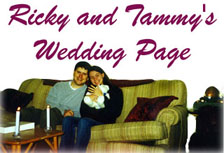 The Engagement Story
(7/18)
Where We're Registered
(3/26)
Wedding Details
(6/7)
The Cast
(6/7)
(7-18) You can quit harassing me; I finally finished The Engagement Story. Check out Part III.
(6-25) Check out the new Top 10.
(6-24) The plans and details are all falling into place at last. The apartment renovations are pretty much finished now, and we'll probably slap some pictures of that up here soon. With just a little over a month to go, there's not much left to do now but go to showers and say "I do"!
| | | |
| --- | --- | --- |
| | These are two of our engagement pictures we had made...the one on the left is what we sent in to the newspapers. | |